Voted the Nature Coast's Best of the Best for Over 10 Years!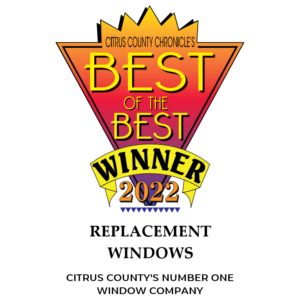 Tropical Window, Inc.
With over 70 years of experience, Tropical Window, Inc. is a proven leader in the marketplace. Few companies provide the level of service that Tropical Window does, from finding the right window to going over the fine details.
Tropical Window Inc., offers window replacement, screen repairs, and replacement parts, all at unbeatable prices. In addition to windows, we offer entry doors and hurricane and impact windows/doors.
Tropical Window, Inc. will take care of all the permitting requirements. Once the project is underway, our Superintendent will oversee the installers who are our direct employees, paid by the hour, not the job. This means you get it done right the first time.
For decades, Tropical Window, Inc., has been a major supplier to many of the custom home builders and commercial contractors in Citrus County. Our reputation has been built on reliability, knowledge, responsiveness, and professional installation.
Our experienced Window Repair Department personnel have seen it all and are dedicated to helping you repair or replace your windows or sliding patio doors.
No matter how big or small your repair needs, Tropical Window, Inc. has the solution.
Tropical Window, Inc. offers the largest inventory of replacement parts along the Nature Coast with parts in stock for more than 185 models of different windows.
Home Owners Say
"Thank you for a very professional installation and for the information on the window specifications. We are truly pleased with the whole experience and the results are showing on our electric bills. This was a great investment for our home and comfort."
"Whatever the owner and management are doing, keep it up as you are doing the right thing. The install group — Justin, Dylan, and JD (Truck #17) did a great job, I could not have asked for a better install group. Tropical Window's team from the office, sales, install were all very professional and friendly. I will use Tropical Window again, and will aslo tell everyone just how good this company is. Thanks and great job!"