We choose entry doors for their aesthetic qualities, but doors offer so much more than aesthetics. Doors aren't just doors; they're a reflection of us and our home. They help us and our families feel safe and protected. We know how important it is to choose a door that best represents you, makes you feel secure, and fits your needs.
Fiberglass entry doors combine the beauty and elegance of wood with the strength and durability of steel. Offered in a variety of rich grain textures, our doors require less maintenance, offer longer warranties, and are more energy-efficient than traditional wood or steel entry doors.
Fiberglass Entry Doors make a first impression that is uniquely you. With endless door styles and decorative glass options, fiberglass doors will give you the authentic look and feel of real wood that will be remembered. Low Maintenance fiberglass doors will not dent, ding or rust like steel doors, nor will they split, crack or rot like wood. They require very little maintenance and keep your door looking "new" longer. Energy Efficient Designed with you in mind, most fiberglass doors meet ENERGY STAR® program qualifications for energy efficiency and are specially crafted with a polyurethane foam core.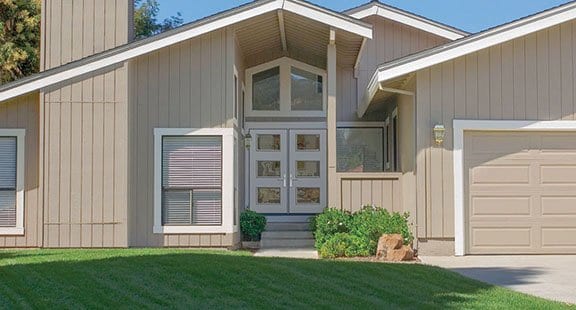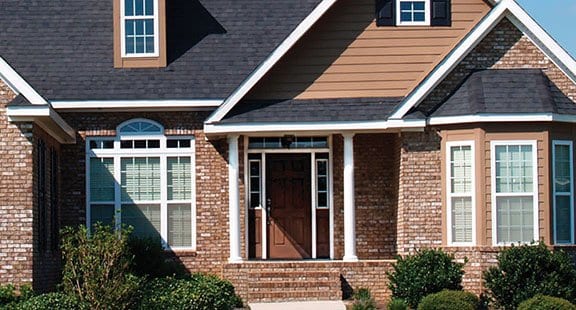 By the Numbers The difference a door makes. Increase the perceived value of your home.
A study by Therma-Tru Doors.
¹www.about.com ²www.thermatru.com ³ www.energystar.gov  Note: See your Therma-Tru seller or visit www.thermatru.com for details on ENERGY STAR qualified products. *From a nationwide survey of consumers' estimates of perceived home value based on exterior appearance. Not based on actual home sales. Results may vary based on region and home style. Therma-Tru's National Home Valuation Study was commissioned by Therma-Tru in 2015 and conducted by TNS, an independent provider of Internet-based research. ©2016 Therma-Tru Corp. All rights reserved. THERMA-TRU and the Therma-Tru Logo are trademarks of Therma-Tru Corp. Registered trademarks are registered in the U.S. and may be registered internationally. Therma-Tru Corp. is an operating company of Fortune Brands Home & Security, Inc. ENERGY STAR is a government program that helps consumers protect the environment through superior energy efficiency and is a registered trademark of the U.S. Department of Energy and the U.S. Environmental Protection Agency
Brands We Offer
Click on either logo to learn more.