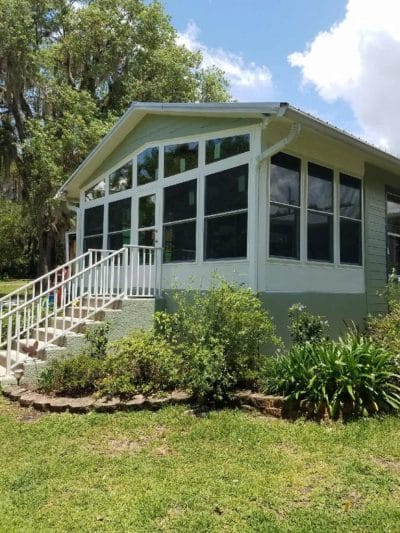 Convert Your Screen Room For Year-Round Use
We can convert any size screen room for year-round comfort with soft vinyl or glass installation.
You live in Florida. So we are sure that you have sat on your porch or lanai and the weather forced you back inside. Then there was that time you were bothered by insects. And many times your outdoor furniture has been coated with yellow pollen dust. Sound relatable? Then you'll appreciate what a screen room conversion by Tropical Window, Inc. can do for you.
Tropical Window's screen room conversions are not only durable, but they're also cost-effective because they're constructed with top-grade materials, customized to fit your home perfectly.
Work With Our Design Engineers
Once you've made the call to us, one of our courteous Design Engineers will visit your home and discuss and plan your enclosure project. They will offer whatever options are available and make recommendations such as glass or soft vinyl. Should you decide to proceed, a firm quote will be prepared and signed. A one-third deposit is required with the balance due on the completion of the project. Next, a date will be set for the project—most screen room conversions take only one day to complete.
From Start To Finish, We Do It All
Tropical Window, Inc. will secure all necessary permits, order the materials, and verify the scheduling of your installation several days in advance. Our installers, who are direct paid employees (not outside contractors) will arrive when stated, complete the job to your satisfaction, clean up when done, and haul away all job-related debris.
We want you to be happy with the experience and the end results. Then you'll be able to recommend Tropical Window, Inc. to your family and friends when they compliment you on your newly enclosed screen room.
Visit our showroom at 1731 South Suncoast Blvd., Homosassa, FL to see large, working windows on display.